The Coutellerie Champenoise knife shop was created in Reims, Champagne, in 2004. Let's add that it was the first knife shop to be created out of all our shops established in France. The Coutellerie Champenoise is located in the city-centre, in the core of the gastronomic area between the Boulingrin marketplace and the Place du Forum borough. We wish to stay as close as possible to our patrons who are looking for quality products, day by day.
Our beliefs have remained the same since 2004. We mean to offer our patrons the same quality of service, whether they are locals or tourists. Let's forget about false modesty, we are one the biggest knife shops, not only in France but in Europe. We wish to offer the most accurate knife selection, whether we talk about kitchen knives or leisure knives (bushcraft knives, outdoor knives and so on and so forth).
We are proud of the references we display in our shop: from famous knife brands such as Opinel or Old Bear to smaller productions from French craftsmen or foreign master cutlers. Your visit to our shop should be a moment to remember because we have got a lot of beautiful things to show you.
You can find all our knife references on our various websites or find them directly in one of our knife shops in France.
---
Japanese knives
Knife specialists address knife addicts
Japanese kitchen knives
Japanese knives are special kitchen knives.

We decided to specialise in Japanese kitchen knives many years ago. Since then we have maintained this specificity to such an extent that we are now considered as one of the main leaders in the kitchen knife market in France and Europe. We proudly display many Japanese kitchen knives in our knife shop: knives from the Japanese industry as well as handmade Japanese knives.
Catering professionals and demanding cooking addicts have been seduced by high quality tools such as Japanese kitchen knives. And they are right to be so! Japanese kitchen knives are made with high quality raw materials, starting with the steel used which is both sustainable and highly performing. Above any other material, the VG10 steel is a stainless steel variety used for many Japanese kitchen knives. SGPS steel type results from powder metallurgy and its performances are astounding. It cuts perfectly and its cuting performances will last a long time. SPGS toughness makes it less often necessary to be sharpened.
How come the

Coutellerie Champenoise

has decided to specialise in Japanese kitchen knives?



The French and their food habits have been changing a lot in the past years. Then it has become necessary to answer properly these new habits and the least we can say is that Japanese kitchen knives have been the fittest answer ever to this food revolution.
There are many things you could say about Japanese steel. You could mention its everlasting cutting performances or its durability, for instance. As knife specialists, we are really impressed by Japanese kitchen knives' improved cut quality, not to mention their finish quality generally speaking.
Catering professionals and amateurs share the same quest: find a tool that can make the difference. They are looking for a knife that will help them enhance the quality of the food they cook and not any knife can.
On this occasion, we would like to thank all our patrons who have been helping us through all these years because our knife shop would not be what it is today without them. Today, we are in a position to offer one of the best kitchen tools available in the market for sale: Japanese kitchen knives. We have become Japanese kitchen knife specialist retailers thanks to our patrons' remarks and feedback, and we are quite thankful for it. Catering professionals and amateurs are unanimous on the subject. The French love Japanese kitchen knives and we think this idyll shall last quite a long time.
There are myriads of kitchen knives from Japan.
There is more to the Japanese knives that meets the eye. There are numerous kinds of Japanese kitchen knives. Considering the delicacy and the care the Japanese bring to the preparation of their food, it seems quite logical in the end that so many blade shapes exist. These blade shapes are adapted to European cuisine or Western cuisine more generally speaking.
When choosing a kitchen knife you ought to pay attention to several criteria: cutting performances, mechanical endurance, ergonomics, and the combination of it all regarding the price you are ready to pay. This is our job to help you determine what the best choice is for you to make.
The

Coutellerie Champenoise

, and your knives are everywhere you want them to.



Our knife shop is a real shop, not just any e-shop. Our shop assistants are here to bring you every piece of information you need to purchase the knife you really want, be it for yourself or for a gift.
Our master cutler can sharpen your knives for you if you don't feel comfortable with the idea of doing it yourself. Leave us your knives and our master cutler will perform their sharpening for you. It is also possible to have them shipped back, wherever you live*. You can ship us your knives to have them sharpened and we will ship them back to you, razor-sharp.
And if you are already able to sharpen your knives yourself, we retail many sharpening tools: whetstones, honing stones and grinding stones, not to mention leather strops and automatic sharpening systems. And as we retail Japanese knives we also have Japanese waterstones in store. Be smart, stay sharp!
Phone our shop: + 33 (0)3 51 00 10 73
email: coutellerie.champenoise@gmail.com
30 rue Colbert 51100 Reims (France)
www.coutellerie-champenoise.fr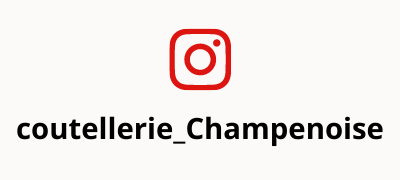 We are open from Monday to Friday from 10:00 to 12:00 AM and from 02:00 to 07:00.
We are open on Saturdays from 10:00 AM to 07:00 PM.
Our shop is open from Monday to Saturday. We would be delighted to welcome you to our shop to show you all the models we display in store.
📞Our customer service is available from Monday to Friday: from 09:00 to 12:00 and from 02:00 to 06:00.
The Coutellerie Champenoise knife shop can rely on a network of shops throughout France: